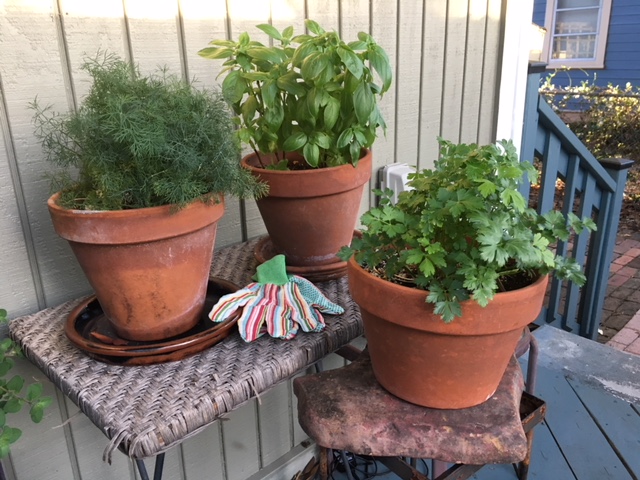 You can take the girl out of caregiving, but you can't take caregiving out of the girl. Right now, there are nine different herbs planted in pots on my back porch. They have names like Rosy, Cilia, and Dilly – all decidedly female, even Reggie One and Reggie Two, the oreganos. I talk to these gal pals throughout the day, giving them reassuring little leaf rubs, keeping them hydrated, looking out for leaf blight, and offering lots of reassurance. This, of course, could be considered either crazy or endearing, depending on whether you embrace a bit of woo-woo in your life. The thing is, they look like they're smiling, and that delights me.  This, coming from the person who, years ago, told new plants, "I hope you stick around, but there are plenty more where you came from."
Digging deeper, I'm figuring out this goodness stems from being open to embracing new ideas and practices that inspire and sustain me. Exactly what I want for YOU, beginning with this essential truth. Whether currently a caregiver or a perennial – you, me, and the thriving plants on my deck have something in common. Like them, we can grow. We can bloom. We can flourish. What it takes is our encouragement, our attention, and our kindness to each other.
————–
What or who inspires you?
Is there a creative activity you'd like to try out, or get back into?
What is your favorite thing to do when you have a little time?
(If it's "sleep," I suspect you're in caregiver mode.)