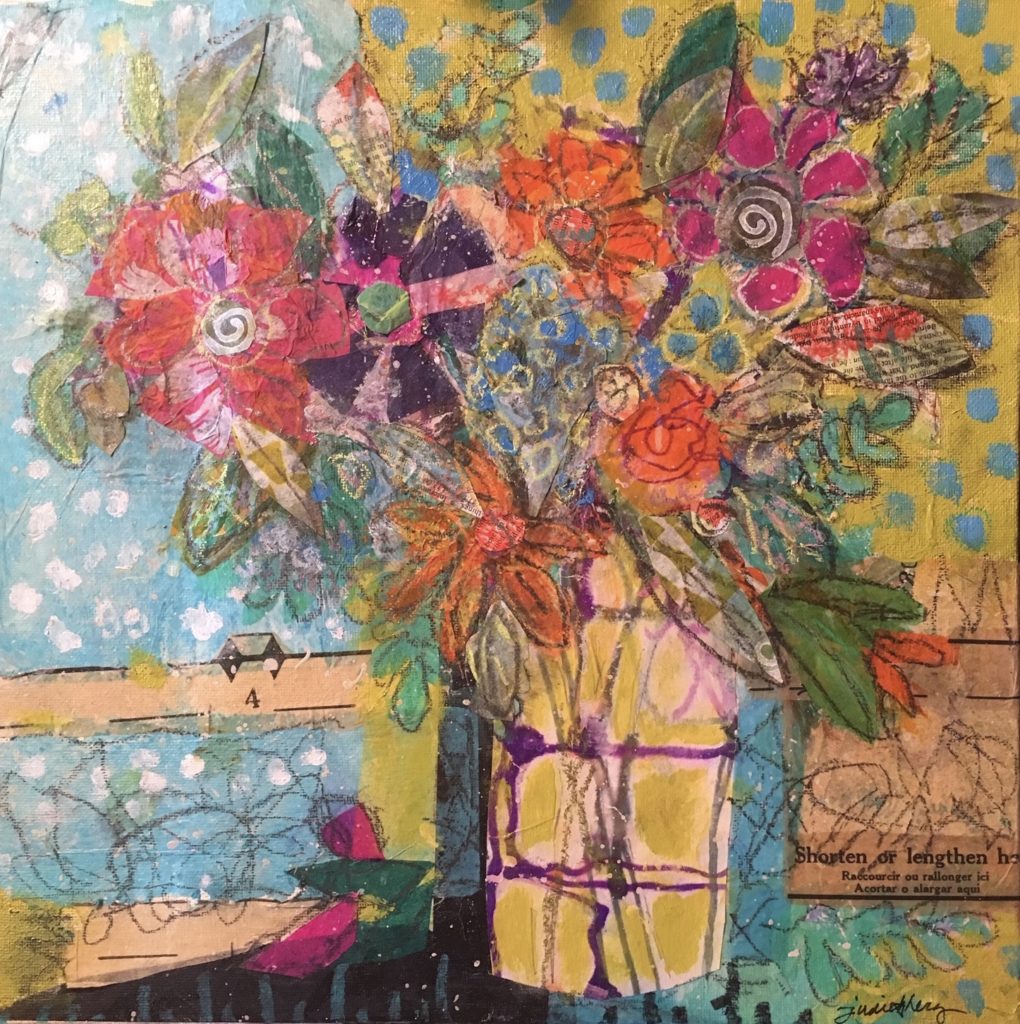 When someone asked my mother who or what was most dear to her, the two-fold answer was given without any hesitation. My siblings and I came first, and art was second.
Always focused on the positives in her life,  she embraced family, friends, and a variety of painting mediums, in much the same fashion – with profound appreciation and attention to the qualities that made them unique. Her signature work was all rich jewel tones and welcoming flowers, which, over time, offered a visual reflection of her personal journey as both a woman and an artist.
When she died in 2013, her supplies came home with me. It didn't matter if, or when they might be used again. What I needed most were her well-worn paintbrushes standing at hopeful attention in a favorite coffee mug, and those boxes of brightly smudged tubes of paint.
Working through the grief, I threw myself into writing a guide book about caring for both my parents in their final years; giving workshops on the topic; and even creating a writer's group especially for caregivers. It has been soul work for sure, but at the same time, I've yearned for something less end-result and more about finding joy in the process.
Just like the Zen saying, "When the student is ready, the teacher arrives," this month I found my way to a glorious collage and painting class called Big Bold Blooms, given by Lynn Whipple, one of my favorite artists. The irony is not lost on me since I could kill a plastic plant if given enough time.
The old paints and brushes are thrilled to be needed again, and my collection of tissue paper and oil pastels are calling out, "Pick me! Pick me!"  Feeling my mom's presence close at hand, the first piece emerges in a mix of ripe purples, greens and turquoise, with a few tiny buttons thrown in for good measure.  Is it perfect? No. Do I care? Not a bit. Discarding judgment and being open to wonder are the real goals here.
Thanks to Carla Sonheim, a private Face Book page has been created for Bloomers, as we're known, to share our progress. The wildly diverse styles and colors are breathtaking, and so is the generosity of spirit towards sister painters, from newbies to professionals, around the globe.
Starting with the warm and wonderful Lynn, our gifted guide, everyone's words are kind, the encouragement is enthusiastic, and for those going through difficult times, there is comfort and compassion to be found.
Every day, I become more enchanted with each creative session, and with my gracious teacher and classmates, as well.  Like my mother, they understand that living an artful life is not just about learning to paint. It's about celebrating each other with an open heart.
Carla and Lynn's websites: You'll want to check them both out.