Don't buy this book if:
You have too much free time on your hands.
You find the word "dutiful" a real turn-off.
You can cook dinner and talk with paramedics simultaneously.
You believe humor has no place in challenging situations.
You'd rather figure everything out by yourself.
---
For everyone else, there's The Dutiful Daughter's Guide to Caregiving, a reassuring combination of financial planner, family therapist, geriatric care manager, and cheeky best friend.
Chapter by chapter, it offers personal stories and practical wisdom on topics such as must-have legal documents; dealing with caregiver stress; asking the right questions when speaking to doctors; and knowing what to include in a caregiver's tool box, aka your purse.
Filled with laughter, tears, and lessons learned, this book is a valuable resource for anyone taking on more responsibility for an elderly parent's well-being.
About Judith
Judith Henry is a writer, teacher, and speaker.
The connection between a caregiver-in-training childhood and assisting her elderly parents during the last phase of their lives is the heart and soul of The Dutiful Daughter's Guide to Caregiving: A Practical Memoir.
As a non-traditional student, meaning she was well beyond the age of her classmates, Judith received her bachelor's degree in psychology from St Leo University, and a master's in education from Indiana University.
The creator of a well-loved writer's group for caregivers, she also gives workshops and presentations on a variety of topics that include caring for older adults; dealing with grief and loss; the benefits of expressive writing; and how to create a legacy letter for family and friends.
A member of AATH (Association for Applied and Therapeutic Humor), Judith brings laughter, sensitivity, and a fresh perspective to even the most difficult of subjects.
Real Life With a Shot of Advice
When Judith's mother and father became ill in 2007, even her reputation as a pragmatist, a planner and a dutiful daughter (her father's term) couldn't prepare her for what lay ahead – a long list of concerns that included navigating an unfamiliar healthcare system, addressing financial and legal issues, dealing with stress and family dynamics, choosing a rehab center, and ultimately, making hospice arrangements.
Doing what came naturally to her, she captured these experiences on paper – writing about what worked and what didn't; about finding humor in the oddest places; and the ways in which the past, present and future often intersect.
As Judith looks back at her childhood, and reveals intimate stories about assisting both her parents years later, she also shares practical suggestions and critical information on topics every son and daughter should know as their own caregiving journey begins.
Delivered in a no-nonsense style, with a healthy dose of humor, this is a guide to buy in bulk – one for you, and the rest for all your friends with aging parents.
Reviews
"Reading Judith's book is like having a close, smart friend guide me around the potholes of caring for an aging parent. She writes with both humor and poignancy on this complex and sensitive subject."
Val Perry, Coordinator/Instructor
Bloomingdale Life Story Writing Program, Valrico, FL
"Judith has delved with humor, complete seriousness, and full knowledge into one of the most complicated aspects of relationships – helping people leave their lives through the gift of active love. Readers will find meaning and support on their own journey as caregivers."
Marilyn Lairsey, Ph.D.
Clinical Psychologist, Portland, ME
"If you want to become more proficient in caring for your loved one, have your self-esteem raised, and understand those sad and humorous moments in the job of caregiving – read this book! The author is on your side."
Ronnie Goldstein, LCSW
Licensed clinical social worker and family therapist, Philadelphia, PA
Praise from Amazon Readers
"This is an excellent sensible guide to caregiving. Filled with understanding and humor this little book has the most intelligent, comprehensive information on caregiving of any self help book I have seen in my 30 years of working with families in caregiving crisis."
"Worthy of your time, helpful to the core and very funny to boot!"
"I highly recommend The Dutiful Daughter's Guide to Caregiving. Since reading the book, I have given it to several friends who have been thrust into the world of caregiving."
"This cleverly designed, handbag-sized book contains the wisdom Judith gleaned from managing all the details of her parents' lives and illnesses. I plan to make use of the thoughtful to-do lists and suggested issues for families to discuss."
"I just finished reading Judith Henry's wonderful book, The Dutiful Daughter's Guide to Caregiving, and how I wish it had been available back in 1999. It is certain to help many people faced with taking care of elderly parents..."
Articles, Interviews & Press
Events
Upcoming Events
Economics Club of Tampa | Jackson's Bistro | Riverfront Room
601 S Harbour Island Blvd | Monday, July 25 | 12:00 - 1:00 pm
The Dutiful Daugher (and Son) Get Organized
A Three-Part Workshop
Horizon Bay at Hyde Park
August 14 | 1:30 - 3:30 pm
September 11 | 1:30 - 3:00 pm
October 9 | 1:30 - 3:00 pm
For details, and to register, contact Suzi Moreland at 813-251-6064
Previous Events Include:
The Joy and Oy of Caregiving | Inn on the Pond | Clearwater, FL
Morning Moments with Maia | Blog Talk Radio
Oxford Exchange Book Fair | Tampa, FL
2015 Times Festival of Reading | St. Petersburg, FL
Writing a Book | National League of American Pen Women
Hire Me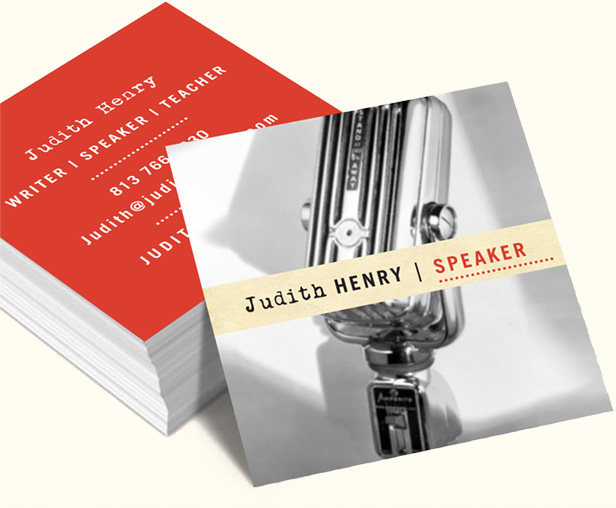 Presentations and Workshops
Presentations and workshops are appropriate for a range of businesses and organizations, including civic groups, healthcare facilities, religious institutions, and retirement communities.
Described as a warm and engaging speaker, Judith excels at connecting with an audience through humor, personal knowledge and experience.
Contact Judith to set up a talk, workshop, or consult for your organization. Fees vary.
Topics Include:
The Real Cost of Caregiving
Caring for Aging Parents: How to Prepare Ahead
Essential Caregiving Tips for Adult Sons & Daughters
A Guide for Coping With Grief & Loss
Writing as a Caregiver Survival Tool
Managing Caregiver Stress

Perfect For:
Lunch & Learn Talk Series
Key Note Presentations
Educational Workshops
Additional Topics Include:
The Joy and the Oy of Caregiving
Sharing Your Values: Writing an Ethical Will
The Power of Expressive Writing for Caregivers
Testimonials
"Judith did a wonderful job. Clear, precise, warm, stayed on topic, receptive to the audience, funny at times, and very professional."
"An outstanding presentation. She really cared about her audience."
"Her suggestions created a great way to deal with difficult end of life issues in a positive way."
"I wish the presentation had been longer!"
"I liked the humor, personal stories, anecdotes and being able to share with other participants in the class."