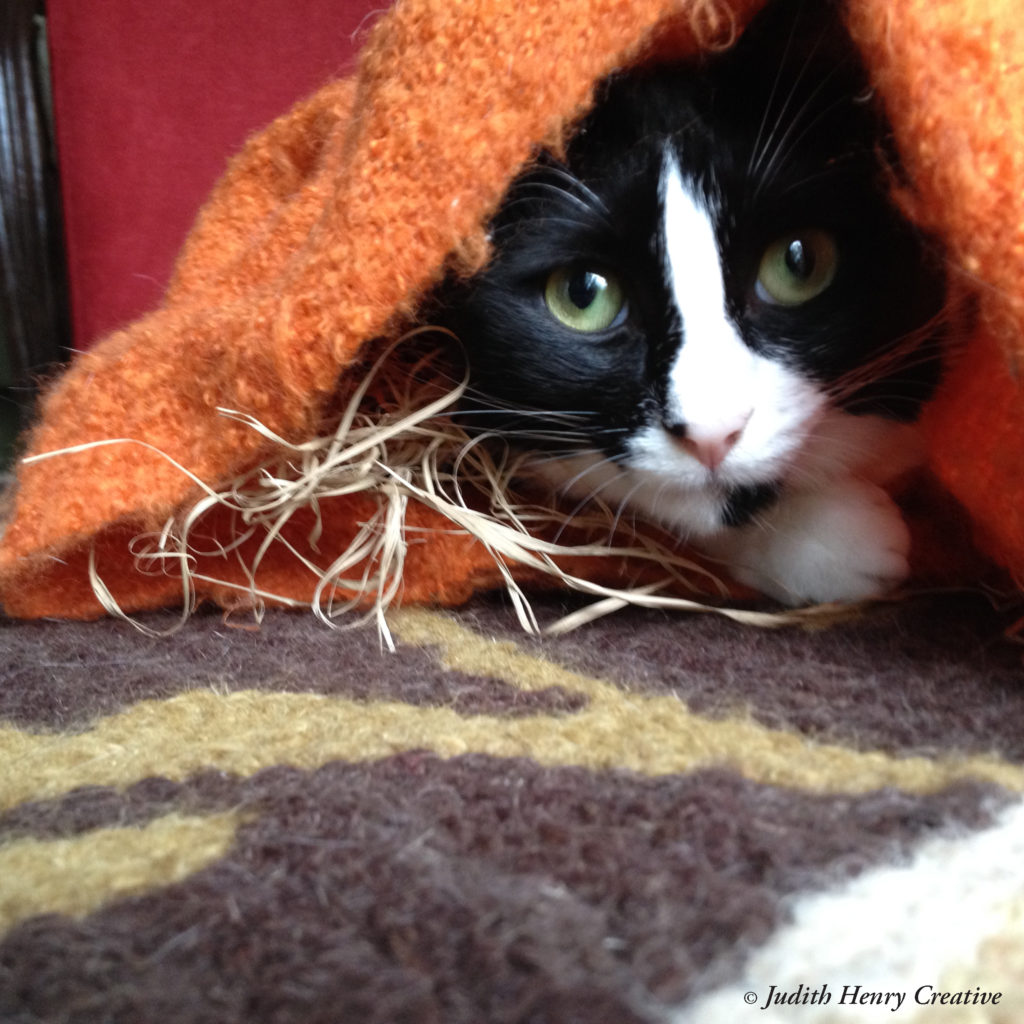 Addie was not just any cat. I'm quite sure she was a gift from my father – a man who believed a house was not a home unless it included a feline or two. 
———
I was still thinking about my dad as I pulled into my driveway after work one evening. It was the five-year anniversary of his passing and my mind had been flooded with memories all day. Glancing at my front porch, there seemed to be a piece of crumpled newspaper lodged under the plant stand there. Getting closer, I saw it was actually a small black and white cat with eyes the size of Oreo mini's.
My first thought was, "Oh, frick." All my life, this was how I came to own pets. As if a cosmic "down" arrow hung over every place I ever lived and said, "Come here and you will be spoiled and adored."
This time was different though. Well-intentioned friends had been urging me to get a pet for awhile, but after the six year roller coaster ride of caring for my parents and processing the grief that followed, I felt fractured by love and loss. I'd also decided to write a book about all I'd learned to help other adult children doing the same. In my mind, this meant shelving any kind of caregiver role for the foreseeable future.
Since neighborhood cats often strolled by, I took that as a sign that this furry little visitor was no different.  Hearing my half-hearted "shooing" sounds, she ran and hid under my car, and I went inside to cook dinner, figuring that was the end of it.
Of course, the next day, there sat the cat at the front door with a look on its face that said, "Let's try this again, shall we?" I stood there still resisting the inevitable, but decided it wouldn't hurt to feed her before she moved on. Yeah, I know.
Since nothing in the house resembled pet food, I opted to make oatmeal, adding extra water until it resembled the gruel in a scene from Oliver Twist. The cat attacked the bowl with gusto, making growling sounds to let me know that sharing was not an option. After finishing every last bite, she followed me into my room, hopped up on the bed, and stretched out on her back, purring loudly. Is there anything more irresistible? Laughing and shaking my head, I reached down to stroke her soft white belly and suddenly caught a familiar whiff of my dad's favorite pipe tobacco. At that very moment, we both looked over at the same corner of the room and then looked back at each other. Five minutes later, I was heading to the grocery store for a litter box and kibble. Addie Jacob – Addie, a name I'd always liked, and Jacob, my father's middle name, was curled up in the sheets, sound asleep.
The rest of the story? Turns out she would need her rest. Becoming my writing "mews" was going to be a full time job.
 NOTE: Addie J is no longer with me, but the gift of her presence is one I still carry in my heart.